Berawal dari kayanya taun ini mulai banyak DJ Techo yang bakalan datang ke Jakarta maka gw coba bahas tentang "Mekkah" nya Techno, a club called BERGHAIN.
Pernah ada thread yang mirip sebenernya, cuman thread yang itu lebih bahas ke arah musik nya, yang gw coba bahas disini lebih ke arah clubnya itu sendiri.
P.S: Gw juga belum pernah kesono, ini hanya dari browsing - browsing. Dan gw juga tahu disini banyak lebih paham dan tahu ttg Berghain dari saya, jadi kalo ada salah mohon maaf dan dibenerin, kalo ada yang kurang mohon ditambahin.
BERGHAIN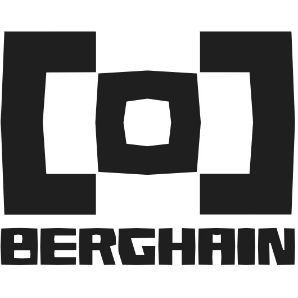 The platform for purist Techno, menurut banyak orang merupakan salah satu club terbaik didunia. Kuilnya techno, sebuah institusi seni tersendiri, bahkan sebuah dimensi lain. Famous for it best DJ and Best sound system
Berghain terletak di Kota Berlin, di dekat stasiun timur kereta api (Ostbahnhof), terletak di perbatasan antara daerah Kreuzberg and Friedrichshain yang menjadi dasar nama club tersebut (BERG-HAIN).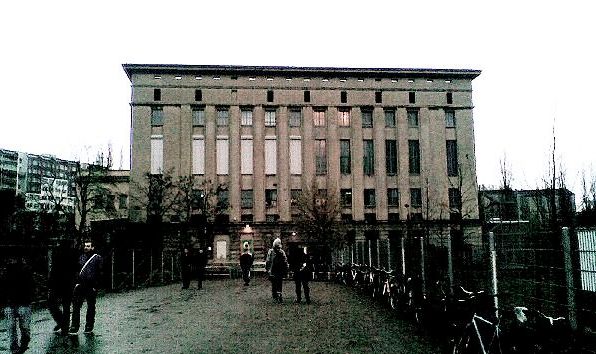 Bangunan tempat Berghain berukuran sangat besar, berupa sebuah bangunan tua bekas sebuah gedung pembangkit listrik. Langit - langit pada area dancefloor utamanya mencapai 18 meter dan dapat menampung lebih dari 1500 orang. Mempunyai sound system yang sangat keras dan bagus (Funktion One), banyak yang menyarankan untuk memakai earplug jika anda berniat untuk berada disana cukup lama (dan biasanya memang lama). Tidak terdapat satupun cermin di Berghain, dan WCnya nyatu antara laki - dan perempuan. Terdapat smoking room yang berupa ruangan dengan atap kaca-cermin (dr luar ga keliatan tapi dr dalem bisa liat keluar).
Terdapat 2 area yang utama di Berghain, yaitu Berghain dan Panorama Bar. Berghain merupakan bagian utama dan terbesar. musik utama yang dimainkan di Berghain adalah Techno. Sedangkan Panorama Bar berada pada bagian atas dan bernuansa lebih sedikit nyaman daripada Berghain dan musik yang dimainkan lebih"house" daripada Berghain. walaupun musik yang dimainkan tidak dibatasi, bisa berupa techno, house, hingga dubstep.
panorama bar
Party di sini berlangsung cukup lama, Party di jumat malam biasa berakhir pada hari sabtu siang, sedangkan party di Sabtu malam biasa berhenti di Senin pagi. Biasanya pada hari Jumat hanya Panorama Bar yang dibuka, sedangkan pada hari sabtu kedua ruangan dibuka. Rata - rata DJ bermain set yang panjang, minimal 3 hours set hingga 10 hours set. they play for their for their love to their music.
Hal lain yang cukup terkenal dari Berghain adalah door policynya. Terkenal dengan Bouncer yang paling "galak" di dunia. Door policy berghain misterius, ga ada yang tahu pasti seperti apa. Ratusan orang mungkin ditolak masuk setiap harinya oleh para bouncer. Begitu juga dengan pemeriksaan ketika sudah diperbolehkan masuk, sangat ketat. Karena itu antrian di Berghain sangat panjang, kalau sedang sial anda dapat mengantri hingga 2 jam sampai akhirnya bertemu dengan para bouncer dan di tentukan nasib, apakah boleh masuk atau tidak. Mereka melakukan ini demi menjaga kualitas Berghain, menjaga keragaman, kenyamanan, serta tingkat okupansi club mereka sehingga semua tamu di Berghain merasa nyaman.
Mereka memandang rata semua tamu mereka. Tidak peduli apakah dia kaya, cantik, keren, DJ, atau apapun itu, bahkan Godfather techno seperti
Richie Hawtin
dan
Dubfire
pernah
diusir
dari Berghain.
Berdasarkan pengalaman dari beberapa orang, konon ada beberapa tips agar diterima masuk ke dalam Berghain, antara lain:
1. Jangan berisik ketika mengantri
2. Jangan terlalu mabuk, atau terlalu kenceng, atau terlalu giting
3. Jangan datang bergerombol, maksimal bertiga, kalo datang bergeromol silahakan pecah grup anda menjadi grup dari 2 -3 orang saja
4. Jangan ngmng bahasa Inggris
5. Tingakh laku harus seperti sudah sering ke Berghain
6. Bergaya atau tampak "tua". Berghain is a 25 years up club, tapi ga pernah di cek ID. Mereka hanya ngira - ngira
Namun tips tadi tidak pernah ada yang tau pasti. Banyak yang telah menerapkan hal tersebut namun tetap di tolak. Perkataan seperti "You're not belong here", atau "Not gay enough", atau "You talk english" menjadi alasan yang tidak asing terdengar untuk menolak calon tamu yang mau masuk.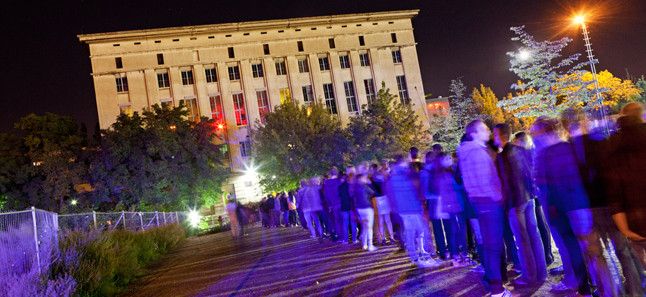 Antrian masuk Berghain
Berbicara tentang doorpolicy tentu tidak lepas dari bouncer, dan bouncer Berghain yang paling terkenal adalah Sven Marquardt. Selain tampangnya yang menyeramkan juga terkenal karena dia mudah sekali mengingat orang, sehingga tahu apakah anda tamu reguler, atau pernah dia tolak hari itu. Selain itu dia juga sangat tegas. Hal lain yang terkenal dari Sven adalah dia seorang fotografer, dan terkadang melakukan pameran hasil karyanya di Berghain.
Sven Marquardt, World "Scariest" Boucer
Namun antrian berjam – jam dengan ketidak pastian apakah boleh masuk atau tidak terbayar lunas ketika sudah berada di dalam. Bahkan untuk orang yang bukan penggemar electronic dance music sekalipun sangat senang berada di Berghain, seperti ketika Ben Klock, salah satu resident di Berghain, mengajak bapaknya datang, seorang bapak berusia 75 tahun untuk ke Berghain dan berada di Berghain selama 10 jam dan bahkan tidak mau pergi menurut Ben Klock.
"Berghain is simply just another world..."